Undergraduate
content
We offer a Culture and Heritage BA (Hons) and a wide range of joint Honours programmes :
Our flexible choices will help you develop key strengths as you progress towards your chosen career. You can study full-time, part-time structured (half time) or part-time unstructured (however many modules you prefer to study) to suit your personal circumstances. We will work around you. You may also study individual modules with us for personal or professional development.
There are exit points at the end of each year with the qualifications of CertHE, DipHE, BA and BA (Hons).
content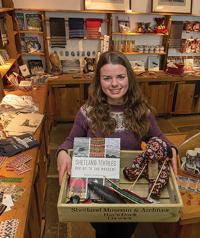 "I love Shetland and couldn't really imagine living in a city. This course allows me to study while continuing to work and live in the same place. Through my work, I have a passion for Shetland and the History of the Highlands and Island so this course seemed to be the perfect progression in my education."
Ailish Parham
BA (Hons) Culture and Heritage student