Bespoke courses
content
We can create bespoke courses for your organisation, as a summer school, or at other times of year. We will work with you to develop a programme which suits your needs and interests.
If you have a group of 6 or more, we will put on a tailor-made course for you
Combining field trips, site visits and academic lectures, our bespoke courses merge our university courses with tour guiding to create a learning holiday or field-school experience. If you are planning a visit with a group please let us know and we can tailor course length, dates and contents to your wishes and needs as far as possible. We especially welcome groups from other universities and colleges. Get in touch with us on ins@uhi.ac.uk or (+44) (0)1856 569300 and we can discuss how we can best tailor the experience to your group's needs. Below is a description of some of the courses we have run so far.
What we can do for you
Below are examples of courses we have run in the past, to give you an idea of what your course could contain.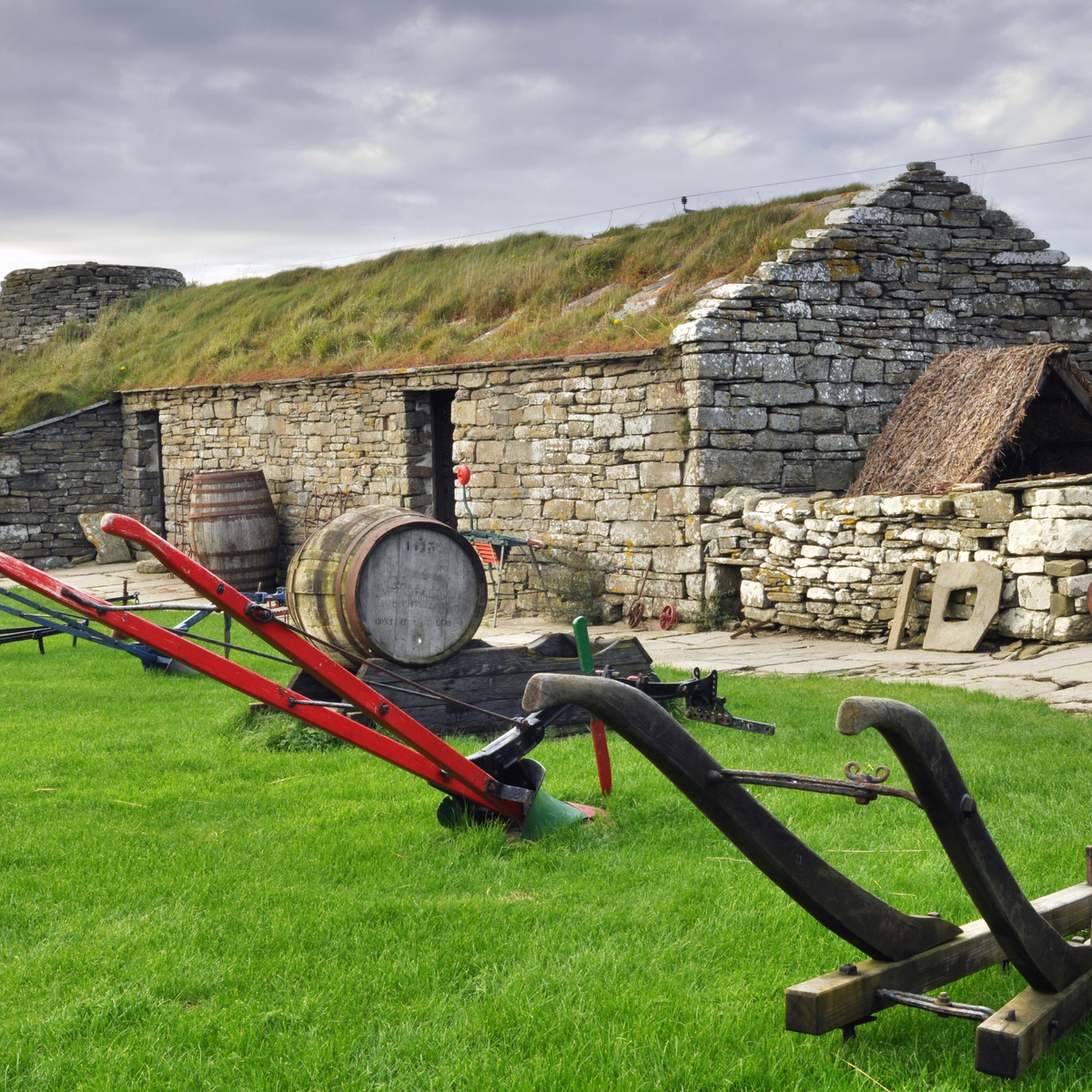 A Window on Iona content
A Window on Iona
A Window on Iona
The Institute for Northern Studies offered a summer couse on the beautiful historic island of Iona, in conjunction with the Iona Community. Participants had the opportunity to stay in the abbey itself. They also attend lectures on the history, culture and folklore of Iona, on St Columba and the early Church, on Celtic sculpture and early Celtic literature, and went on field trips to iconic places such as Staffa. There was also a series of evening social events ranging from a ceilidh to a conversational Gaelic class for beginners! In collaboration with the Iona Community.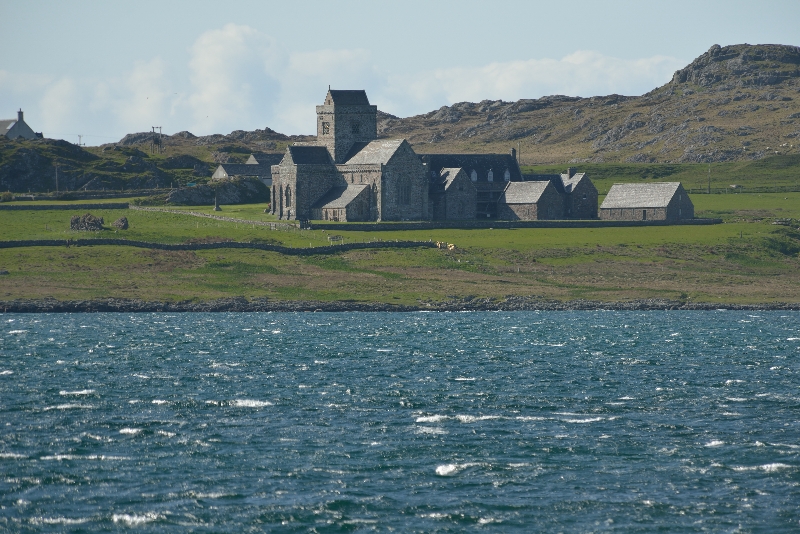 Hands-on Orkney content
Hands-on Orkney
Hands-on Orkney
A combination of cultural history, field trips and practical workshops allowed students to experience different aspects of traditional life in the island community. Experts from the Institute for Northern Studies provided the historical and cultural context through illustrated lectures. Workshops tried out traditional skills such as bannock baking, drystone dyke building, making things out of straw, guided by local practitioners. We used traditional tools and methods to cut peat and heard about the folklore of the area, visited a traditional Orkney farm, now a farm museum, where we learnt to make "simmans" and "lover's knots", and visited an Orkney Furniture Maker who continues the tradition of making straw-backed Orkney chairs.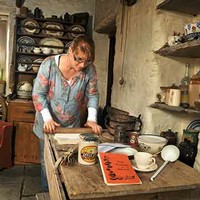 Orkney Cultural Traditions and Folklore content
Orkney Cultural Traditions and Folklore
Orkney Cultural Traditions and Folklore
This summer school took place over five days, with a combination of lectures and field trips covering the history of Orkney, its archaeological heritage, its folklore and literature, its dialect and language, history and music. Daily field trips took in the Italian Chapel, Scapa Flow, Orphir, Kirbuster Farm Museum, Birsay, Maeshowe, Ring of Brodgar, Skara Brae, Kirkwall, Stromness and the Broch of Gurness.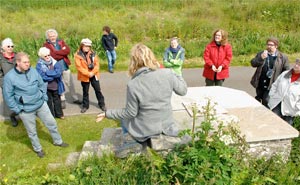 Orkney Writers and Landscape content
Orkney Writers and Landscape
Orkney Writers and Landscape
This course focussed on some of Orkney's best loved literature through the ages: from Norse saga literature to explore the works of Orkney writers such as Robert Rendall, Edwin Muir, Eric Linklater and George Mackay Brown. Daily field trips visited the places and landscapes that inspired their writing.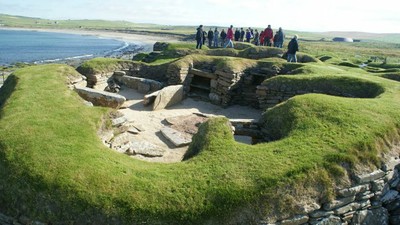 Shetland History and Landscape content
Shetland History and Landscape
Shetland History and Landscape
Set within the context of the landscape of the various islands, this course explored the archaeological and natural heritage of the Shetland Islands, including an all-day excursion to Unst, Britain's most northerly island, and a workshop on traditional music.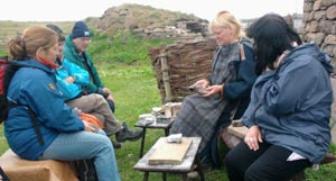 Shetland Writers and Landscape content
Shetland Writers and Landscape
Shetland Writers and Landscape
This course focused on Shetland's literary landscape, with an introductory lecture on Saga literature followed by case studies of nineteenth and twentieth century writers such as Dorothea Primrose Campbell, Jessie M.E. Saxby, dialect writers such as James Stout Angus, J.J. Haldane Burgess, to contemporary Shetland writers Robert Alan Jamieson and Jen Hadfield.
Viking Culture, Orkney content
Viking Culture, Orkney
Viking Culture, Orkney
This Orkney-based course explored many aspects of Norse culture: navigation and exploration, everyday life, food culture, religion, law and administrative system and Norse literature and runic alphabet. There were daily excursions to Brough of Birsay, the administrative centre of Earl Thorfinn the Mighty, the Earl's Bu in Orphir, Maeshowe chambered tomb containing Britain's largest assemblage of Runic inscriptions, and the islands of Rousay and Egilsay. It also included a re-enactment of the martyrdom of St Magnus and a full-blown Viking Feast!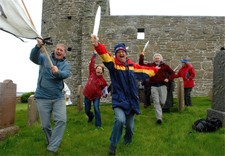 Viking Culture, Shetland content
Viking Culture, Shetland
Viking Culture, Shetland
A Shetland-based course on all things Viking, with field trips and lectures. Lectures included Vikings in the North Atlantic, Runes and Norse Literature, Viking Voyages and Seafaring, and Vikings in Popular Culture. The fieldtrips went to Lerwick, the Up-Helly-Aa exhibition, South Shetland Mainland Viking Landscapes and Societies. There was also plenty of socialising and fun, such as a Viking Games tournament and even a sailing trip on a reconstructed Viking ship! An all-day excursion to the Viking Unst Project was also included.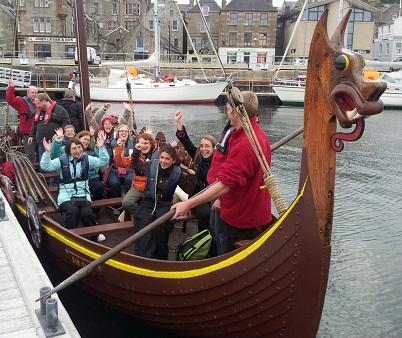 Orkney Through Time content
Orkney Through Time
Orkney Through Time
This summer school focused on the art history of Orkney and creative art workshops. Through the week, participants progressed in time from the islands' Pictish past, through the Viking and Middle Ages, to the traditional farming community and the contemporary art and culture of Orkney.
Each day contained an illustrated academic lecture, exploring the culture and art of each era, ranging from the elegant but enigmatic Pictish symbol stones, through Viking sculpture and medieval literature, to Northern Isles traditional custom and belief and the poetry and art of our recent past. The lectures were enhanced by field trips centred around the five day-themes, where we experienced Pictish art, Viking runic inscriptions, medieval architecture and explore the traditional farming community. Each day, participants made their own creations, led by the Orkney College Art and Design department and local artists, exploring various techniques such as textile art, stone carving, photography and traditional photo manipulation, and felting.
The last day was spent in the renowned Pier Arts Centre, where the theme was Fine Art, An Unfolding Gift, followed by a printmaking workshop. At the end of the course, participants went home with a selection of artwork of their own creation.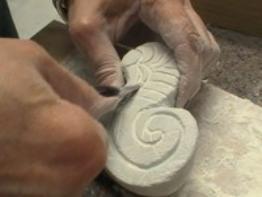 Visiting groups content
Visiting groups
Visiting groups
Below are examples of groups who have visited us to experience their own tailor-made summer course.
Contemporary Music for All
This event was part of the Contemporary Music for All summer school, in collaboration with Orkney Islands Council's "Magnus 900" year.
Kiel University
In 2012, we were delighted to welcome a group of academic faculty from Kiel University for a bespoke version of our Orkney Cultural Traditions and Folklore summer school.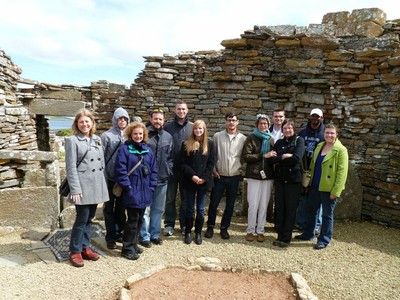 East Tennessee State University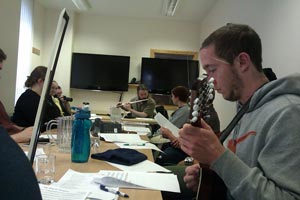 In 2009, 2011, 2013, 2015, and 2017 we ran bespoke versions of the Orkney Cultural Traditions and Folklore summer school for a group of students and tutors from East Tennessee State University. As the group included music students from the Bluegrass Program, we also collaborated with local musicians, such as Bruce Mainland (2013) and Fiona Driver (2015) who both gave a workshop with the students.
Cambridge, Nottingham and Oxford Universities, The Orkney Viking Heritage Project field school
In 2013, we were privileged to host a group of tutors and PhD students participating in the Cambridge, Nottingham and Oxford Universities' field school, The Orkney Viking Heritage Project.
The Orkney Viking Heritage Project is a training programme for PhD students and early career researchers in the field of Old Norse-Icelandic and Viking Studies (ONIVS), which aims to extend academic research about the Viking diaspora and its tangible and non-tangible heritage in the British Isles. The Project addresses the evident skills gap in the Strategic Area of Heritage and engages with the Emerging Theme of Translating Cultures. It comprised a Preparatory Workshop in Oxford bringing together academics, young scholars and heritage professionals, and a Field School in Orkney providing hands-on experience of a heritage landscape.