Viking assembly sites
Identifying early democratic institutions for the benefit of the public and local organisations content
Identifying early democratic institutions for the benefit of the public and local organisations
Professor Alexandra Sanmark's ground-breaking research and excavation of Viking-age assembly sites revealed new sites as places of early democracy
Unit of assessment | Area Studies (Northern Studies and Art)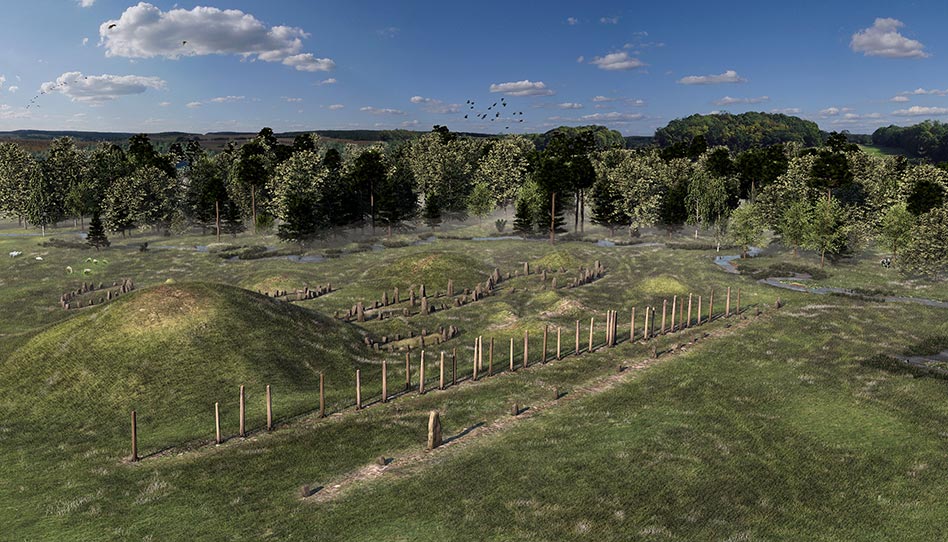 3D-reconstruction of the Anundshög-site. In the foreground are the rune-stones and the line of standing stones, with the wooden monument just behind. In the background several burial mounds and five ship-settings can be seen, as well as the parts of the site that delineate a stream. Created by Framefusion in collaboration with Alexandra Sanmark and Sarah Semple.
This case study focuses (primarily) on Alexandra Sanmark's research from 2010 until 2020. In 2010, The Assembly Project received funding from Humanities in European Research Area (HERA) for a collaboration between UHI and the universities of Vienna, Oslo and Durham.
Sanmark's work involved detailed study of Viking-age assembly sites – outdoor courts and parliaments – in Scandinavia and areas of Norse settlement, for example in Scotland, Iceland and Greenland. Sanmark created an innovative method of site identification and interpretation and, with her research colleague Sarah Semple from Durham University, also developed a new method for field investigation.
These pioneering methods involved examining large areas through topographical and geophysical surveys, followed by targeted excavations. Using these new methods, the team was able to identify a large number of assembly sites and compare data and key features across different geographical areas. This work made clear the immense value of the assembly sites to local communities as places of early democracy, as well as for other communal events such as markets and horse racing. Building on these strong traditions of place, some modern-day parliaments are still located by these symbolic sites.
Sanmark identified and studied over 50 assembly sites in Sweden, including Anundshög, one of the most extensive and archaeologically important sites in the country. Her excavations at this site revealed several unique features. These included a 200-metre-long wooden monument that enclosed the sacred assembly site and also marked a royal ceremonial route that passed the site. Another 'first' was the excavation of a thirteenth-century assembly cottage, presumably used for the signing of legal documents. This is the earliest example of such a building at an outdoor assembly site.
Anundshög has benefited from increased local council funding for school visits, a café with an exhibition of the excavations, and guided tours in Swedish and English attracting investment of over £3 million. It has also contributed to the cultural heritage value of the site. By 2020, more than one million visitors had benefited directly from Sanmark's research and many more indirectly through media coverage, exhibitions and education. Other significant assembly sites studied using the same methods include Gamla Uppsala, the major assembly for early Sweden and the predecessor of the archiepiscopal seat of Uppsala, as well as many other sites in, for example, Norway, Greenland and Iceland.
In Scotland, very few Scandinavian assembly sites were known in 2010, but Sanmark's new research methods helped identify more than 30 sites with striking similarities to ones in Scandinavia, such as the tendency of the elite to re-use existing monuments to portray themselves as rulers. Sanmark's work in Scotland has helped increase tour guides' awareness of democratic institutions and means of conflict resolution in Scotland's past. Her exhibition in Orkney Museum provided new knowledge on Orkney's Viking past and attracted over 1,600 visitors during three months in the winter season of 2017 to 2018.
Assembly places and practices are fundamental to our understanding of how medieval society in Northern Europe was transformed from a network of small-scale local power-structures to a competing system of large kingdoms with royally driven administrative infrastructures. This research has identified and interpreted these sites in three specific areas across the Viking world, enabling a new public understanding of the history of democracy. Without the research of Sanmark and her Assembly Project colleagues, the majority of these sites would not be known and certainly would not be developed as new cultural heritage tourism hotspots.
This research has benefited society in Scotland, Sweden and Norway through integration of the results into public information for visitors, tourist-guide training and school programmes, helping to improve economic prosperity, cultural life and education.
"Maybe it was not the king who united the kingdom, but the assembly and the local community"
– Testimonial from Frode Iversen 2020, Museum of Cultural History, Oslo
Research team
Alexandra Sanmark, now Professor of Medieval Archaeology at the UHI Institute for Northern Studies
Relevant websites
Follow on