Volunteering
content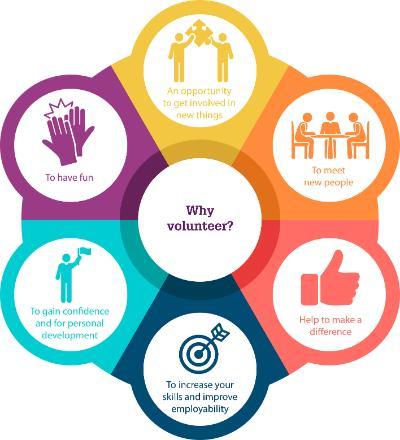 Volunteering can be a particularly useful way to build up skills in certain sectors e.g. health and social care, environmental and heritage work because of the large number of third sector organisations involved.
A survey of 200 of the UK's leading businesses (TimeBank, 2009) showed some of the career benefits of volunteering:
73% said they would recruit a candidate with volunteering experience over one without.
94% believed that volunteering can add new skills.
Five ways volunteering can help you land a job
Get inspired by reading our latest blog
Volunteering whilst at university:
During your time at university there will be opportunities to undertake voluntary roles such as being a class rep, or serving on a university committee. You may also like to consider getting involved with the university's students associations and student clubs and societies. Or perhaps become a Student Mentor or offer Peer Support to provide valuable support to other students.
There may be opportunities to do some voluntary work within your department to gain course-related experience and you should speak to your PAT or lecturers to find out what is available.
If you are a graduate from the University of the Highlands and Islands and are interested in volunteering why not help current students by becoming an alumni career mentor? You could help students making the transition to life after university by sharing your insights and experience with them. The university also offers a 'Graduate for Life' service with access to careers support and guidance for the lifetime of your career. Register through the FutureMe service
Read more about volunteering and your career in this blog post. You also have a wide range of careers support, information and guidance available through the university Careers and Employability Centre, including access to the online Job Shop and details of local, national and international volunteering opportunities.
Find out more about volunteering by contacting careers@uhi.ac.uk or studentengagement@uhi.ac.uk
Make Volunteering Count:
Once you become a volunteer you can make it count towards various awards.
The university is also accredited to run the Duke of Edinburgh Award and participating students can log volunteering hours within the Volunteering section of an Award. Please note that this Award is only available in certain colleges. To find out if your college is currently running the award, please contact us.
If you are a student under 25 years of age you can register with the Saltire Awards and log volunteering hours to achieve awards. Once you are registered you will be assigned to a local Saltire Delivery Office where you can access support.
Find out what our students have to say about their volunteering experiences or watch HISA's volunteering video.

Where to go for more information content
Where to go for more information
Where to go for more information
Volunteer Centres
There is a volunteer centre in every region of Scotland. These centres advertise currently available voluntary opportunities, and they can also offer you information and advice on volunteering more generally. The following centres operate within the Highlands and Islands:
Other useful sources of information