HRI Munro Architecture Prize
content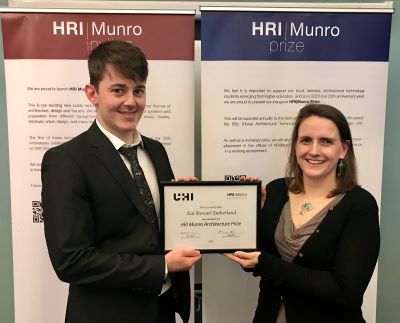 This annual prize of £500 is presented to the highest achieving BSc (Hons) Architectural Technology student at UHI and includes an offer of a work placement at HRI Munro Architecture.
The inaugural prize was awarded in 2022 as part of HRI Munro Architecture's 25th anniversary celebrations to Kai Sutherland.
Kai started his journey at UHI in 2016 by undertaking an HNC in CAD and then moved into a modern apprenticeship in Construction Management, securing employment with Robertson Timber Engineering. Following successful completion of that apprenticeship, Kai then moved into the degree programme at Year 2 with full support of his employer.
Kai is one of several hundred graduates who spent half their degree study in remote learning due to Covid-19. Kai, as the first recipient of this award showed dedication and commitment to his studies to not only in achieving the top of his year but also doing so, in unique, once in a lifetime circumstances.
Kai was awarded 5A's in his final year for his modules and gained the highest marks of any student in his cohort. He is resilient and hardworking and is a credit to himself and his employer.
The prize provides recognition, training and mentoring to a new generation of Architectural Technologists in the Highlands. HRI Munro Architecture are an Award-winning Practice based in Inverness and Thurso who work widely throughout the North of Scotland, Highlands and Islands. For more information about HRI Munro Architecture project's, please visit their website.