Healthcare Innovation Fund
content
UHI plays a major role in creating, developing, and delivering globally significant health and life sciences innovations. Our Healthcare Innovation Fund gives you the opportunity to help us continue developing these world-class opportunities.
Our vision is to deliver innovation, knowledge exchange and commercialisation activity to facilitate the creation of new companies and products, promotes economic growth and transforms health and social care outcomes.
Recent projects include:
the licensing of an anti-cancer immunotherapy to a Chinese pharmaceutical partner
the initiation of new partnerships with Scottish SMEs including Aseptium, Cognihealth, and Scottish Vet Referrals
the development of new clinical initiatives in cardiology and respiratory medicine to help evaluate digital healthcare technologies with NHS Highland
To find out more about our projects, download the latest Project Portfolio from the School of Health, Life Sciences and Social Care.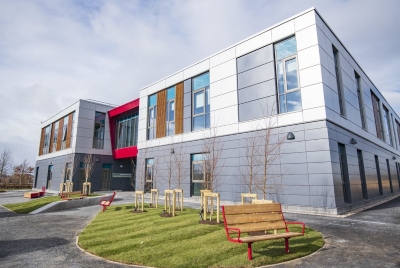 The new Life Sciences Innovation Centre on Inverness Campus
Your donation will support promising, clinically important research, enable researchers to develop their innovative ideas, and encourage students and staff to build commercially viable health and life sciences products, services and businesses.
£1,000 could support a student in health and life sciences training
£5,000 could support an initial health innovation feasibility study
£15,000 could help develop a promising technology from concept to prototype