University Learning and Teaching Conference 2020
Andrew Bowie, Vice President HE, HISA
Chris O'Neill
Dr Gary Campbell
Tom Farrelly introduces the Gasta session
David Sharkey of the LTA delivers a gasta talk
Angus MacDonald of the EDU delivers a Gasta talk
HISA panel session
Dr Lydia Rohmer
Roddy Henry introduces keynote speaker Julia Fotheringham
Bill Johnson and Shila MacNeill deliver a keynote talk
Conference delegates in the lecture theatre
Conference delegates in the lecture theatre
Conference delegates in the lecture theatre
Conference delegates in the lecture theatre
Conference delegates in the lecture theatre
Colleagues networking
Colleagues networking
Session sign up desk
Conference stalls
Conference stalls
Conference stalls
Workshop session
Workshop session
Workshop session
Workshop session
Workshop session
content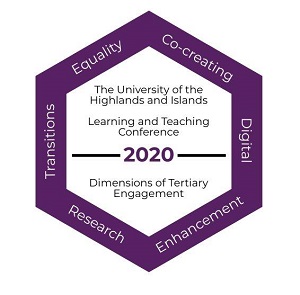 The University of the Highlands and Islands Learning and Teaching Conference 2020 was held on 22-23 January and co-hosted by Inverness College UHI, the Learning and Teaching Academy, and the Learning and Information Services. Our title for the conference was Dimensions of Tertiary Engagement with six conference themes:
Co-creating: working in partnership in the design and delivery of learning and teaching within, across and beyond the university. This could include working in partnership with students, employers and wider community, and across disciplines and levels of study.
Digital: harnessing current and emerging technologies in learning and teaching, student support, widening access and participation, and developing digital skills and capabilities.
Enhancement: using evidence and evidence informed approaches to enhance learning and teaching and the wider student experience. This could include enhancement through student feedback, data and analytics, and evaluation of our own practices.
Equality: with a focus on issues of equality and inclusion with respect to the content of the curriculum, learning and teaching activities, professional development opportunities, accessibility, and valuing diverse and individual needs and voices.
Research: we are seeking here to provide a platform for colleagues undertaking educational research across the university to share their work. This could include small scale research projects, research being undertaken for education related PhDs, funded and collaborative projects, research in progress, and research being undertaken for the REF.
Transitions: supporting student transitions into and through Further and Higher Education, into postgraduate research, into employment and professional practice. Supporting staff to transition in aspects of their learning and teaching practice is also of interest here.
content
Resources content
Resources
Resources
Below are any resources available from the sessions that took place at the conference.
Day 1.
Plenary sessions

12:30-12:45

Welcome

Professor Chris O'Neil, Principal and Chief Executive, Inverness College UHI

12:45-13:00

'What do we mean by Tertiary?'

Lydia Rohmer, Principal, West Highland College UHI and Vice-Principal (Tertiary):

13:00-13:45

Keynote: Julia Fotheringham, Edinburgh Napier University 'Associate Students in transition: direct entrants and the 'uni-boys
Short presentation sessions
14:15-14:35

Pluralising Approaches to Student Identity - a study of programme design in HE

Seán McLaughlin, Perth College UHI

True or False? - Quizzes can improve our students' learning experience

Carolin Radtke and John Buchan, EDU UHI

What can the Curriculum Development Employer Engagement Officer team do for you?

John McLuckie, Alana MacLeod, Katie Masheter, and Lorna Ferguson Student Services (Careers and Employability) UHI

Students as partners: Creating a collective responsibility for course evaluation and improvement

Catriona Meighan, Inverness College UHI

14:40-15:00

Technology-Enabled Learning for Rural Education through the lens of Dementia Education

Kevin Muirhead, Department of Nursing and Midwifery UHI

Supporting staff development for embedding e-learning in regular teaching practice

Nuria Camps, Perth College, UHI

The value of delivering Career Development workshops through the curriculum

Helen Anton and Iain Eisner, Student Services (Careers and Employability) UHI

There is more to life than Sci-Hub: how to help you, legally, find open access and subscribed 'stuff'

Elizabeth McHugh, Learning and Information Services, Libraries UHI
Long presentation sessions
14:15-15:00

Perth College: Our Digital Vision

David Gourley, Perth College UHI

Utilising Learning and Teaching Review to Promote Reflection, Professional Dialogue and Enhancement

Nikki Yoxall, Moray College UHI

Using narrative and lived experience to enhance the non-medical prescribing curriculum

Stephanie Holden and Joanna Smith, Department of nursing and Midwifery

Talis Aspire pilot: module reading list editing by academics to improve reader context and the student experience

Richard Hughes, Carol Hart , LIS Libraries UHI and Lucinda Dean, Centre for History UHI

Cryptopoverty in the Highlands and Islands of Scotland

Mark Lindley-Highfield, Inverness College, UHI

Utilising Pad Pro and pencil to create a screen cast to share with students

Fiona McConnell, Inverness College UH

Wikipedia in Education: Write it, don't Cite it

Sara Thomas, Wikimedia UK
Plenary sessions

15:20-16:00

Building a UHI Community

Andrew Bowie (HISA VPHE), Ash Morgan (HISA VPFE), Flo Jansen (HISA Depute LCC), and Aimee Harvey (UHI)

16:00-16:10

John Maher, Head of LIS UHI and Sophie McGown, D2L

16:10-16:50

Brightspace Gasta

Dr Tom Farrelly, Institute of Technology, Tralee
Day 2
Plenary sessions

09:05-09:50

Keynote: Bill Johnston and Sheila MacNeill, 'Digitally enabled tertiary and adult higher education for challenging times

14:00-14:45

Keynote: Dr Tom Farrelly, Institute of Technology, Tralee 'Black into Bright: VLEs are still with us
Interactive workshops
10:00-11:20

Contextualising the university's graduate attributes

Rosie Alexander and Ann Tilbury, Learning and Teaching Academy UHI

Whisky 101; Distilling the Brightspace Benchmarks into your unit or module

Carolin Radtke, Educational Development Unit UHI & Keith Smyth, Learning and Teaching Academy UHI

How should we grade groupwork?

Heather Fotheringham, Learning and Teaching Academy UHI

Using Rubrics in Brightspace

Lois Gray, North Highland College UHI

Forging engaging learning resources

Elaine Dalloway and Mark Wilkie, Educational Development Unit UHI

Exploring teenage mental health: Understanding and responding to the needs of our learners

Louise Martin-Theyers & Heather Corpe, Inverness College UHI

ABC Curriculum Design

Anne Chard, Educational Development Unit UHI
Short presentation sessions
11:30-11:50

Understanding the education, employment and migration pathways of Island students

Rosie Alexander, Learning and Teaching Academy UHI

Courage, wonderment and a willingness towards strangeness": why Literature matters in an age of apocalyptic thinking

Kyle Smith, Perth College UH

OERu – how you can showcase your courses and enable global education

Andy Brown, Academic Development UHI

Cross-curricular collaboration for learning innovation

Allane Hay, Jane Pickthall, Stacey Toner, Moray College UHI

What can the Knowledge Exchange Team do for you?

Darlene Russell, Research and Enterprise UH

11:55-12:15

Condensed learning diaries for reflective development

Rob Bray, Argyll College, UHI

Non-formal learning in a Popular Music Education Context

Ronnie Goodman, Perth College, UHI

Using the UHI tool Pepe to create audio feedback quickly from Word documents

Fiona McConnell, Inverness College UHI

The new framework for the development of open educational practices

Scott Connor, Learning and Teaching Academy, UHI

Industry Teaching Linkages – A Real Engineering Example

Lois Gray, North Highland College, UHI
Long presentation sessions
11:30-12:15

Embedding Research Teaching Learning Linkages in the Creative Arts

Lesley Mickel, Inverness College UHI

Humanizing the machine: At what cost

Alice Mongiello, Inverness College UHI

Improving employability with programme-based assessment

Douglas Barr, Inverness College UHI

Responding to the student voice: are we listening and how do students know this?

Aimee Harvey Heather Fotheringham Learning and Teaching Academy UH,, Mei-Li Roberts Perth College UHI, Catriona Meighan Inverness College UHI, Lucinda Dean Centre for History UHI
Discussion sessions
13:00-13:45

Digital social space

Andrew Bowie (HISA VPHE), Ash Morgan (HISA VPFE), Flo Jansen (HISA Depute LCC)

The Learning and Teaching Enhancement Strategy Values: Finding commonality within diverse practices

Heather Fotheringham and Ann Tilbury, Learning and Teaching Academy UHI

Towards an anthropology programme?

Mark Lindley-Highfield, Inverness College, UH

A multi-modal learning matrix for digital education

Frank Rennie, Lews Castle UH

Educational scholarship and research at the University of the Highlands and Islands: from here to where?

Keith Smyth, Learning and Teaching Academy UH

Investigating the relationship between digital skills and blended learning standards

Emma Clayes; Laura Kelly; Khristin Fabian, Perth College UHI

University-ness, Tertiary-ness, and the Integrated University

Brian Boag, Executive Office UHI