Thank you
content
We would like to thank all the individuals, organisations and charitable trusts and foundations who have donated to the university during 2020.
Dr Gary Campbell
Castle Tavern
Sophie Chisholm
Brian Colgan
Patricia Colgan
Graeme Forrester
James W Fraser
The Fresh Air Leadership Company
Angus Gordon
Lois Gray
Ellen Grieve
Aidan Henderson
Jane Henderson
Highland Society of London
Pete Honeyman
John Howieson
Pauline Hunter
John Kemp
Eileen Mackay
Alexander Mackenzie
Phillip MacKenzie
Dr Poonam Malik
Member of Foundation
Mighty Bouches Band
Pauline Parr
The Liam Colgan Music Fund
Thomas and Angela Prag
Prickly Thistle
Willie Printie
Oliver and Clare Russell
Scottish Aquaculture Research Forum
Scottish Business Network
Scottish Land Commission
The TEFL org
Thomas and Margaret Roddan Charitable Trust
Norman Trousdale
Wilhelmina Barns-Graham Trust
Alison Wilson
Ian Wright
We would also like to thank all of our anonymous donors, you know who you are and we appreciate your support!

A special mention to those who have donated to the university as a direct result of COVID-19 to help the setting up of an emergency study fund to tackle student digital and financial poverty and to enable the creation of live music gigs to support our music alumni community by allowing them to perform virtually whilst their industry faces such challenging times.
The support we receive to help our students and alumni continues to be absolutely vital!
If you would like to support us, please visit www.uhi.ac.uk/donate or email alison.wilson@uhi.ac.uk for more information.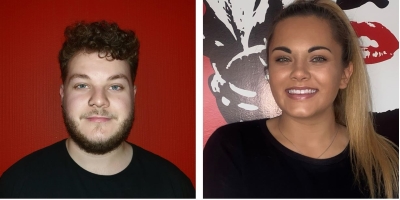 Aiesha Hunter and Jack Birnie, winners of the Liam Colgan student music awards 2020